Search
1 entry found
Number of results to display per page
Search Results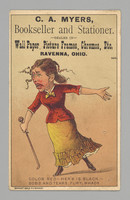 Title:

Trade card; C. A. Myers; Ravenna, Ohio, United States; 1883

Subject:

Paper products industry; Interior decoration; Book industries and trade; Trade cards (advertising)

Description:

Trade Card from C. A. Myers: Bookseller and Stationer. Dealer in Wall Paper, Picture Frames, Chromos, etc. with an image copyrighted by P.H. Kennedy of a distraught woman holding a riding crop with the caption, "Color Red - Her's is Black - Sobs and Tears, Fury Whack"; Ravenna, OH

Corporate Name:

C. A. Myers

Date:

1883

Language:

English

Rights:

http://rightsstatements.org/page/NoC-US/1.0/?