Search
1 entry found
Number of results to display per page
Search Results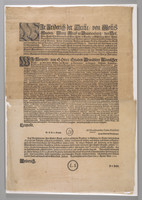 Title:

Broadside; Oppenheimer, Samuel; Vienna, Austria; 1700 April 30

Subject:

Broadsides (notices)

Description:

Broadside with imperial edict by Leopold I directing people to pay their debts to Samuel Oppenheim, as well as to his sons and other relatives. The payments are to be in three installments over six months. It was issued on 11/19/1690 and reconfirmed in this document on 4/30/1700; Vienna, Austria

Personal Name:

Oppenheimer, Samuel

Date:

1700-04-30

Language:

German

Rights:

http://rightsstatements.org/page/NoC-US/1.0/?