Search
1 - 2 of 2
Number of results to display per page
Search Results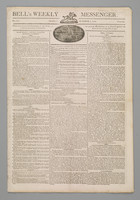 Title:

Periodical; Goldsmid, Abraham; London, United Kingdom; 1810 October 7

Subject:

Periodicals; Judaism -- Customs and practices; Jewish bankers; Financial institutions

Description:

Issue of Bell's Weekly Messenger, No. 757, printed by John Bell with an extensive report and comment on funeral and suicide of Abraham Goldsmid, a dominant figure on the London stock exchange located on page 318 (page 6); Herbert's-passage, Beaufort-buildings, London, UK

Personal Name:

Goldsmid, Abraham

Corporate Name:

John Bell; House of Messrs. Goldsmid and Co.

Date:

1810-10-07

Language:

English

Rights:

http://rightsstatements.org/page/NoC-US/1.0/?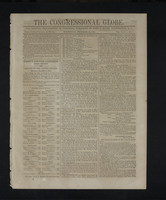 Title:

Periodical; Benjamin, Judah P.; Rives, John C.; The Congressional Globe; Washington, District of Columbia, United States; 1855 December 12

Description:

Edition of Newspaper "The Congressional Globe", published by John C. Rives, with an article regarding the political views of Judah Benjamin

Personal Name:

Benjamin, Judah P.; Rives, John C.

Corporate Name:

The Congressional Globe

Date:

1855-12-12

Language:

English

Rights:

http://rightsstatements.org/page/NoC-US/1.0/?

Collection:

Arnold and Deanne Kaplan Collection of Early American Judaica (University of Pennsylvania)

Call Number:

Arc.MS.56