Search
1 entry found
Number of results to display per page
Search Results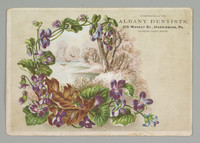 Title:

Trade card; Joslyn, J.W.; Albany Dental Association; Harrisburg, Pennsylvania, United States; undated

Subject:

Medicine; Jewish dentists; Trade cards (advertising)

Description:

Trade card from Albany Dentists of the Albany Dental Association' Dr. J. W. Joslyn, Manager and Dr. F. C. Caswell, Sec. with an image of birds flying over a body of water encircled by violets recto and a price list verso; 215 Market Street, Opposite Court House, Harrisburg, PA

Personal Name:

Joslyn, J.W.; Caswell, F.C.

Corporate Name:

Albany Dental Association

Date:

unknown

Language:

English

Rights:

http://rightsstatements.org/page/NoC-US/1.0/?